Wholesale Directory               
Atlantic Surplus USA has been serving the U.S. Domestic and International marketplaces since 1994. We are "Authorized Wholesale Distributors" for Rhino Footwear. Rhino work boots and safety shoes are known for durability, comfort, styling, and affordable prices.
With over 50 styles in stock, we have styles for every workplace environment. Styles include steel toe, composite toe, regular toe, and metatarsal. We stock roper, 6-inch, 8-inch, 10-inch, tactical, waterproof, welding, uniform oxford, hunting, and western models. Visit our online catalog to see images and descriptions of all our Rhino Footwear.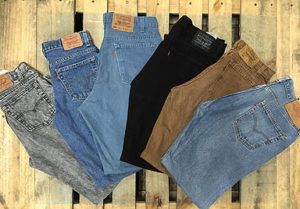 Used Levi Jeans & Shorts Online Catalog
Used Levi jeans and shorts are the most popular used jeans and shorts worldwide. There is always a big demand in the U.S. and Internationally. We sell our used Levi's jeans and shorts as a mix of styles. You can also purchase 501s separately. Atlantic Surplus sells Grade A and Grade B used Levi jeans and Grade A and Grade C used Levi shorts. For descriptions and prices please visit our online catalog.